ご注意下さい
この記事は3年以上前に書かれた記事ですので、内容が古い可能性があります。
I live in Germany.
When you are traveling to Germany, unfortunately you have lost or left something in a train, a bus, or a tram. Don't worry. If you are a lucky guy, you could find it in the lost property center of the German transportation system, MVV.
Search lost and found items online
The following link is the lost property search site provided by German transportation.
URL https://gti.page.link/RE1wzxDpM1rksD6cA:

Google translated link to English just in case
The following screen shot shows the search result on the website. As you can see, there are nearly 16 items just picked up by mobile phones. As of January 7, 2020, I wrote this post, it can be seen that it is frequently registered in the database.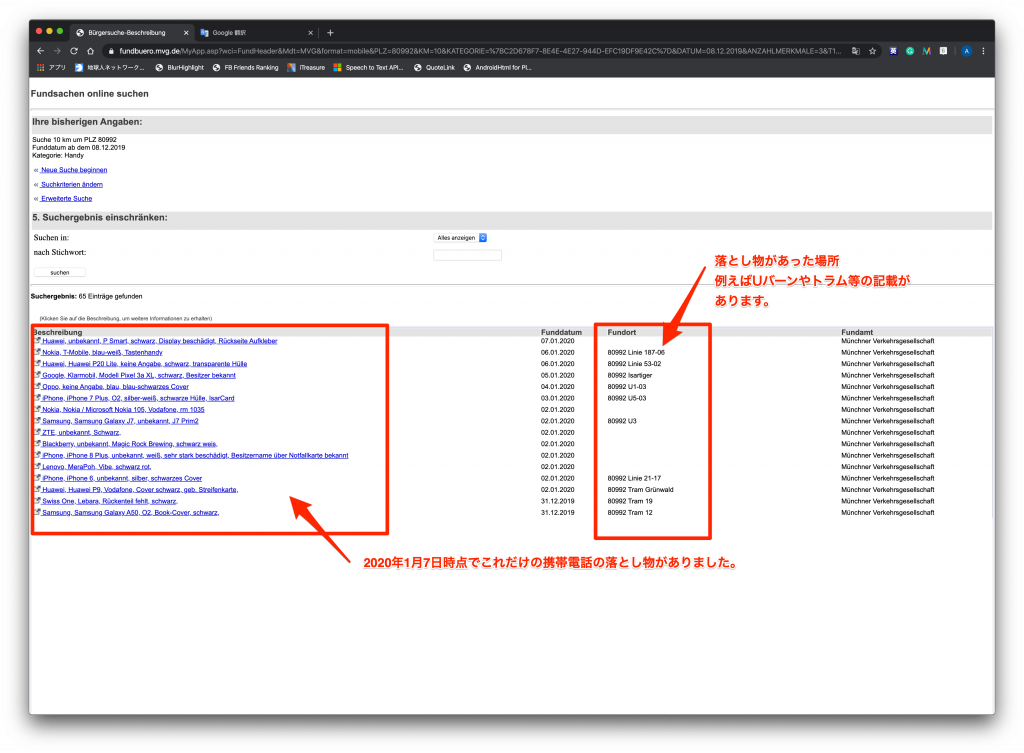 Where is MVG Fundbüro
MVG Fundbüro is the name of the lost property center and it is close from Munich Central Station. So you may want to go there directly. Address is Elsenheimerstrae 61, 1. Stock 80687 Munich. 1 Stock means 1st floor.
The station you should get off is Westendstraße station of U4 or U5 line. This is a sign board at exit of the station.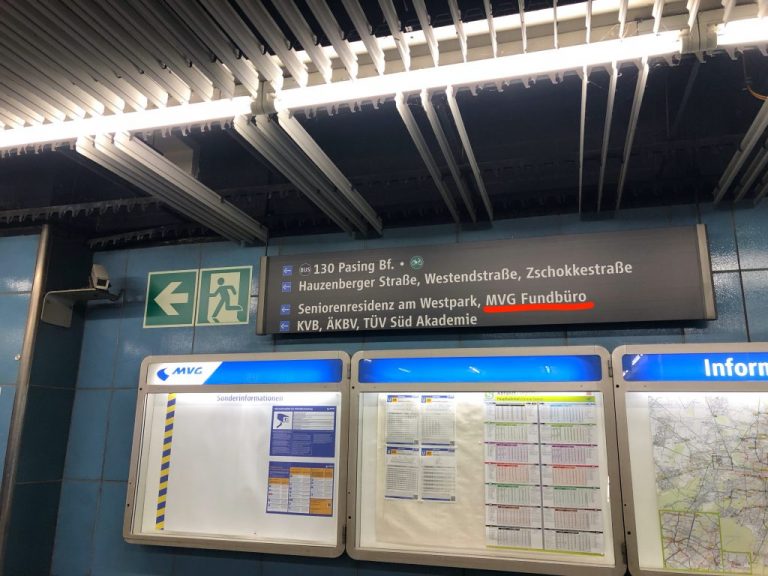 This is the entrance of the building.
When you enter the buiding, you can see elevators in front of you. Go up to 1st floor.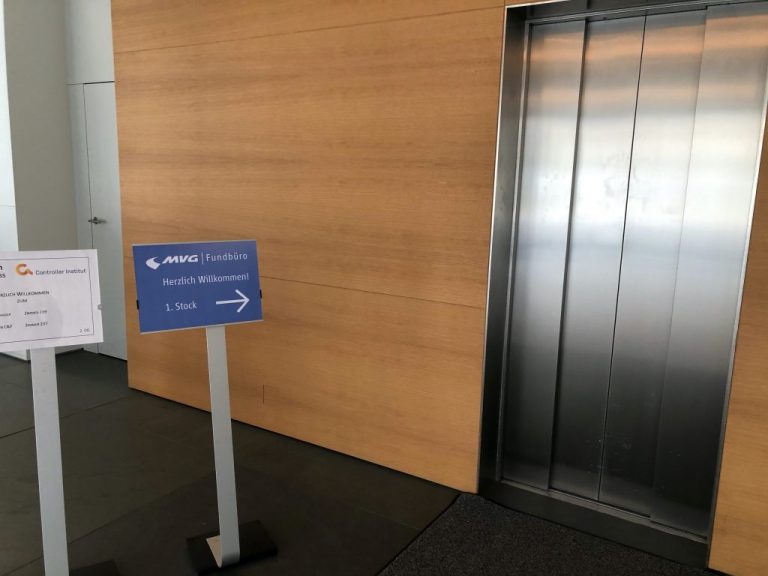 Get off the elevator and you will find the office on your right.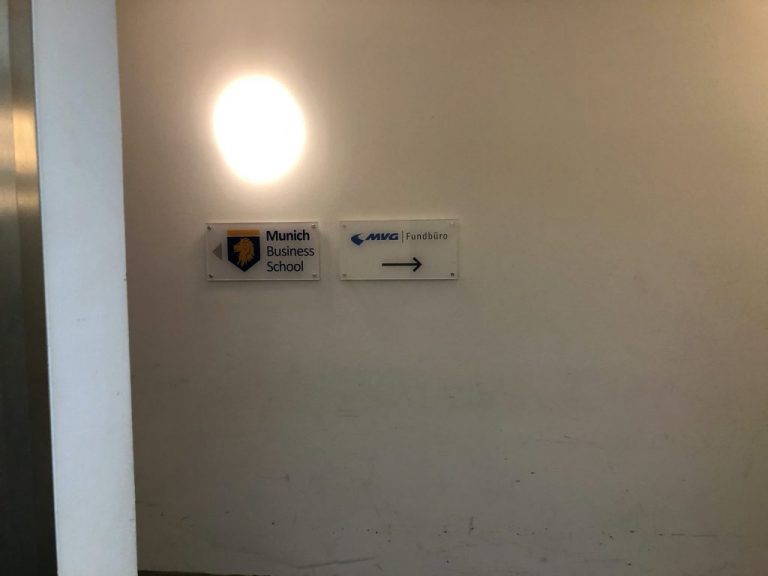 I've been here to look for something I've left behind (unfortunately I wasn't able to find it), but if you ask a staff to show you your property in English, they will show you the shelf where they've kept the lost stuff. They speak English well.
Finally, I write down the link of the official homepage of the lost property center below. Please note that the opening time is different day to day.
Opening hour of the center
Mon, Thu: 8:30-12:00, 14:00-18:00
Tue, Wed, Fri: 7:30-12:00
MVG Fundbüro - Gesucht & Gefunden: Der Zeitfaktor spielt meist eine wichtige Rolle bei der Wiederbeschaffung von verlorenen Dingen. Die MVG hat ein eigenes Fundbüro, an das die gesammelten Fundgegenstände übergeben werden. Einfach online suchen: Und auf unserer Fundbüro-Plattform können Sie rund um die Uhr nachsehen, ob Ihr persönlicher Schatz bereits im MVG Fundbüro abgegeben wurde.
My story
Recently, I dropped a gadget in a tram because I drank too much. I had a confidence that I dropped it in a tram, judging the situation. 2days after, I checked the lost and found items online site. I was surprised that I found it on the site, to be honest.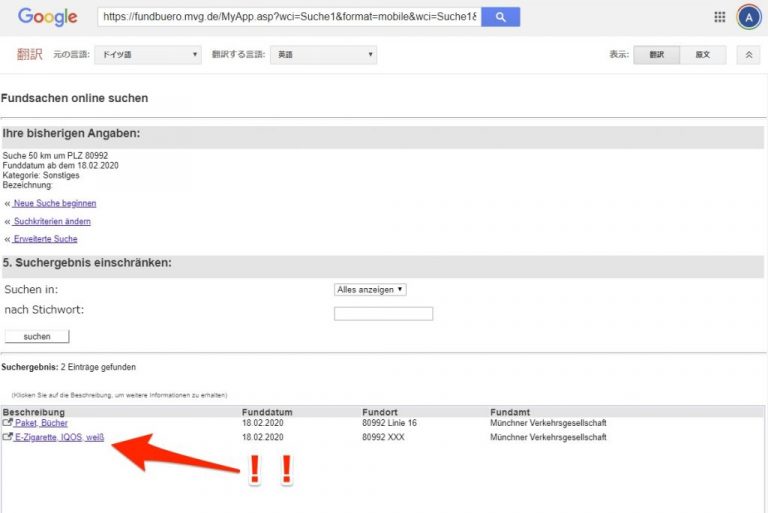 I was pleased to rush to the office to pick it up. In the office, I presented the screenshot with the item detail.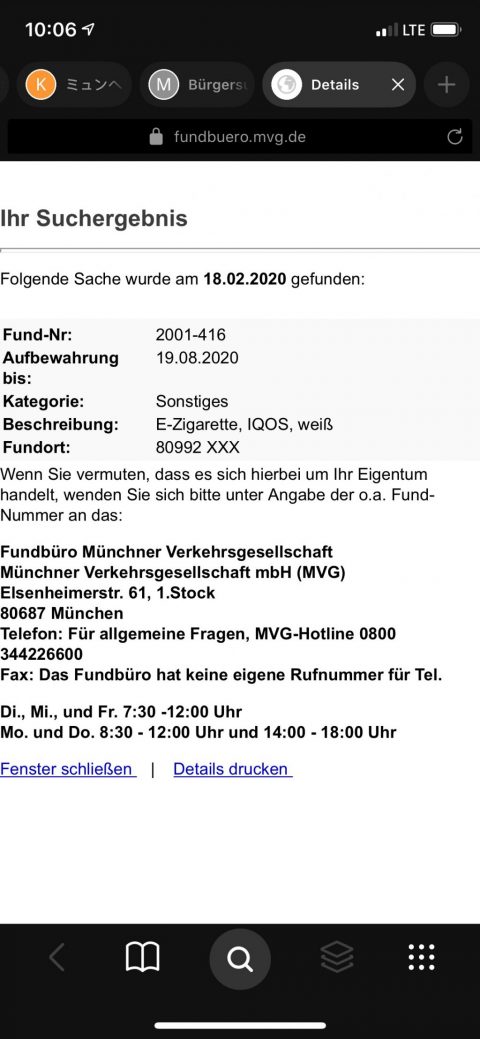 Staff confirmed to me about the situation, where, when something like that. So I answered that I dropped it at 16 or 17 tram and 9 pm. I got off at bra bra station. He asked me my living address and to present my ID (passport) after the confirmation.
Lastly, I wrote my signature on a document. I was able to get it back!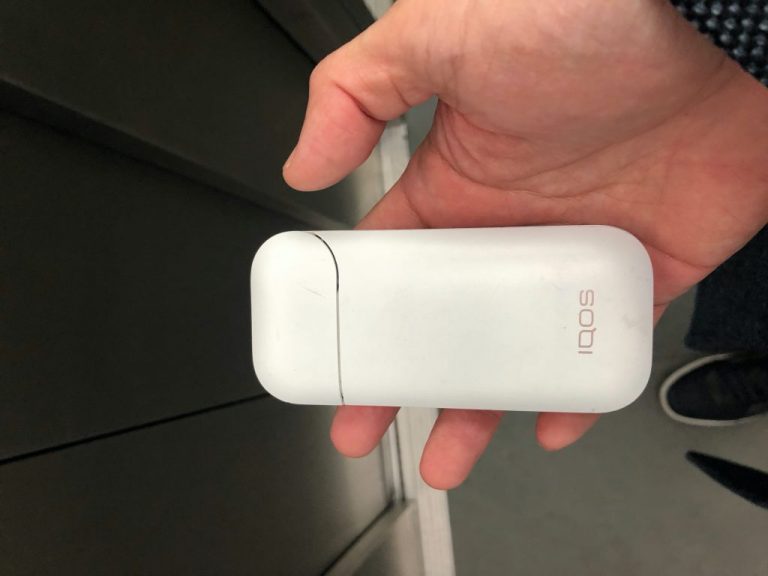 That's all. Don't drop anything!