ご注意下さい
この記事は3年以上前に書かれた記事ですので、内容が古い可能性があります。
I'm Ash, live in Munich, Germany.
I think that your mobile phone is paid by your company which you are working for, but I do not think that it is paid up to sim cards for your family. If you purchase the T-mobile SIM card, it will cost about 40 euros a month. I believe you want to save costs as much as possible.
So I recommend SIM Discount as a cheapest SIM card seller.
Why recommend SIM Discount?
Because you will be able to purchase the cheapest but reliable SIM card there.
Why I recommend SIMDiscount
It's the cheapest SIM card selller in Germany.
Includes EU roaming (Switzerland does not belong to EU. Be careful.)
Not only data but also SMS and calls are included. (you can get a phone number that you can receive phone calls.)
All procedures should be done by only online.
Sim will be mailed (it will arrive in within 3 days from the purchase.)
High quality network provided by the UK's largest mobile network provider, Telefonica O2.
However, be carefule about the following point.
Notification
Payment method is SEPA only. Therefore, you need to live in Germany or other EU countries.
How to apply
Pre-preparation before the purchase
If you don't have installed Google Chrome browser, install it.
Even if you have aside from English mother tongue, I recommend you to translate from German to English.
The language displayed in the following article is translated into English.
Application procedure
Let's look at how to purchase a SIM card on the SimDiscount.de online store.
First, you need to select a plan. Go to https://www.simdiscount.de and choose a plan.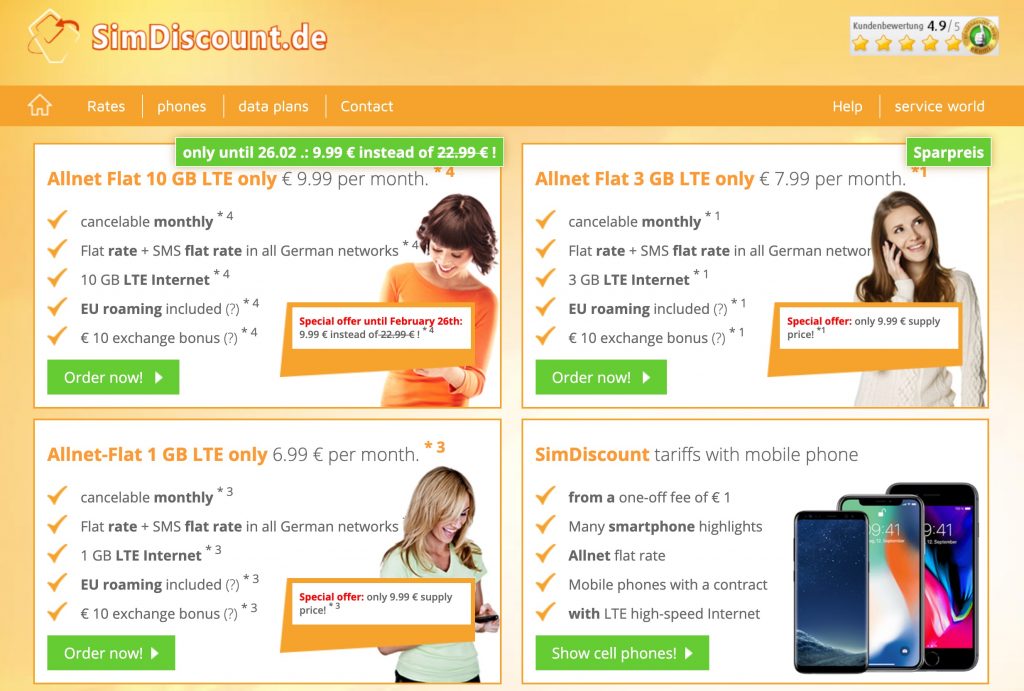 Since they are offering some attractive plans every month, it depends on the timing, but in the above example, you can buy a SIM card with 10GB of data capacity with only about €10.
By the way, I have purchased two SIMs here so far, but 10GB plan is very attractive. So, I am trying to purchase another one.
Before filling out the form, let's review the plan again.

For telephones and SMS, it's a flat rate in Germany, the data capacity of 10GB, but the speed is limited to 50Mbps. The EU roaming is included and you can cancel on a monthly basis.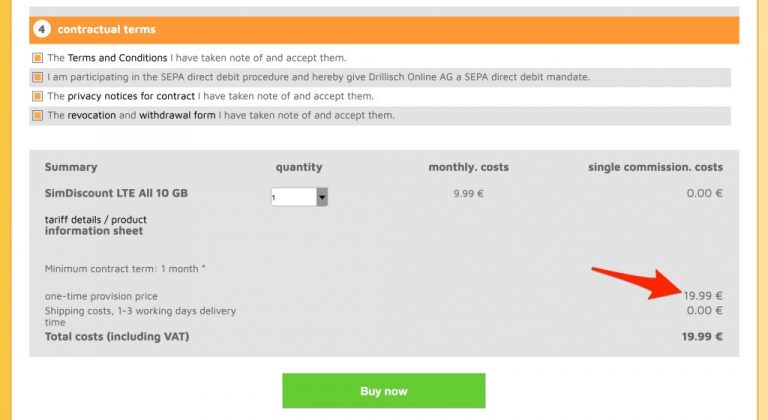 It costs about €20,00 once as an operation cost.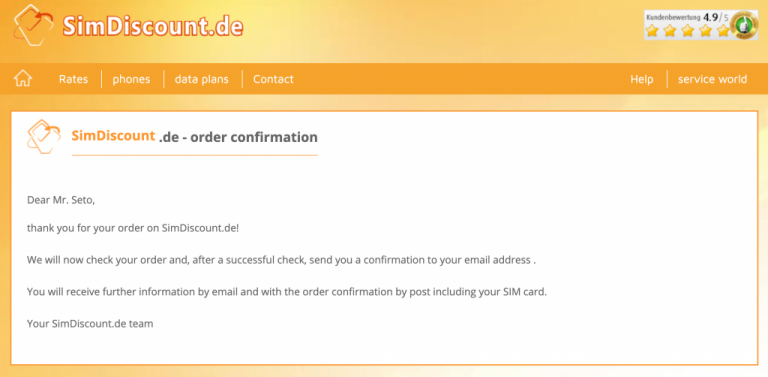 When you comlete buying the SIM card. Then You will get a confirmation email immediately.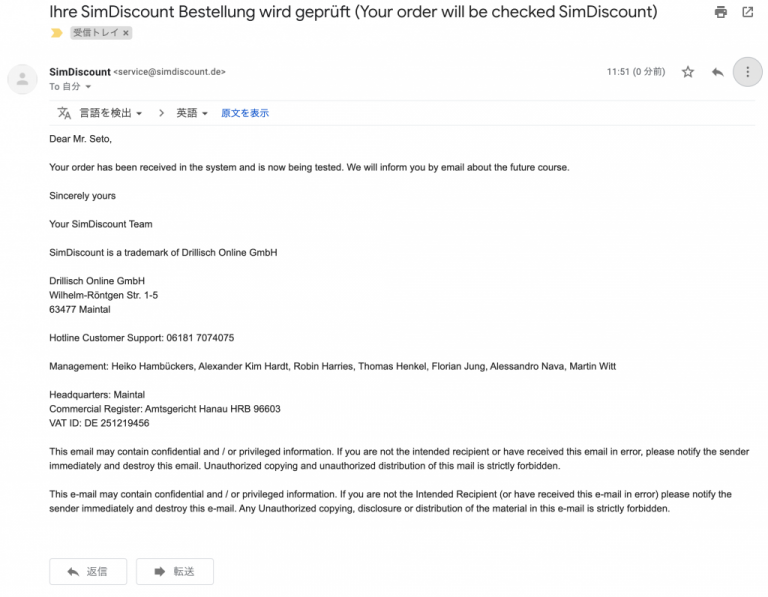 You will receive two more emails soon. The first email is the URL of your personal page with the login user name. And another one is a email attatched the contract document.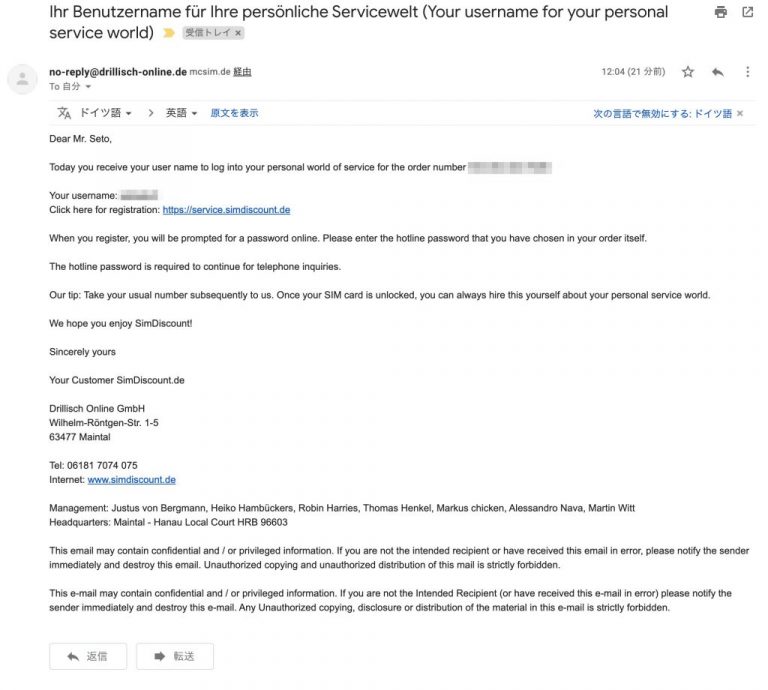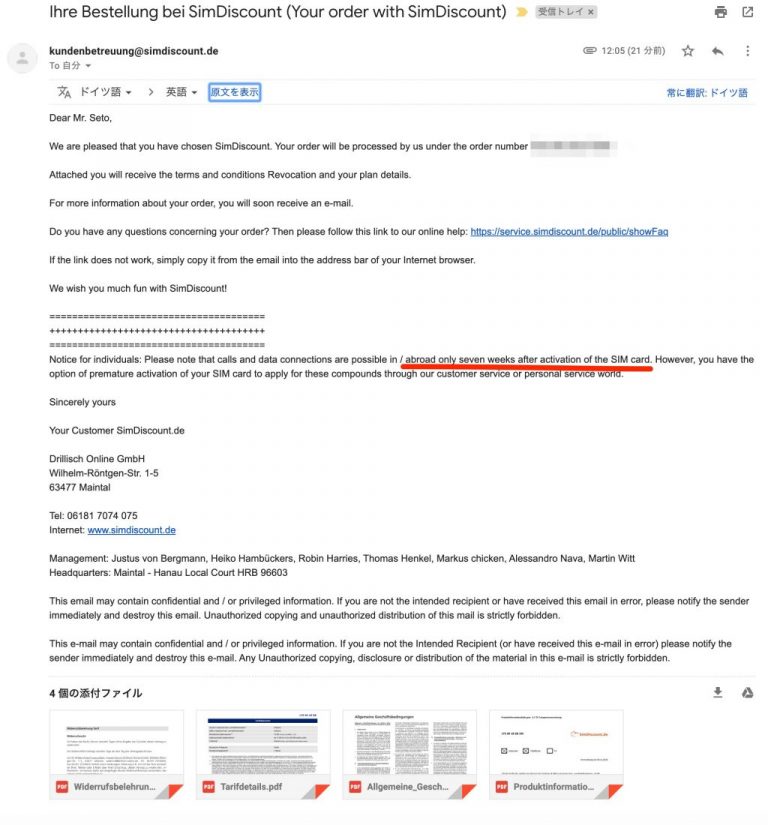 As you can see in the second email, the EU roaming will valid in seven weeks later.
After you get the SIM card
Activate SIM card
You will receive the SIM card you ordered within 3 business days. In my case, I ordered it on Sunday and got it on Tuesday (very quick).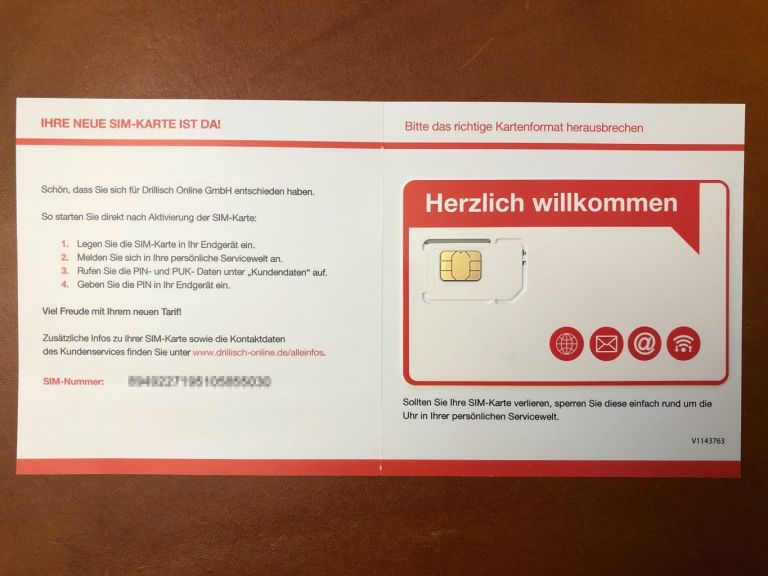 Let's put it in your iPhone right away.
You will be asked to enter a PIN code for the SIM as follows:
Go to Your Page and check your PIN
Go to Your Page and check your PIN code from https://service.simdiscount.de/. Your login username is written in the first email. The password is set by yourself when you purchased on the online store.
Now let's enter the four-digit number of PIN1 into the iPhone. It should be opened like this.
The carrier name was not SimDiscount this time. It was Willkommen as you can see.
If you can not roam outside Germany
In my case, I was able to use it without any problems in Germany with this SIM card. However, an event occurred outside Germany (to be precise, in Italy) where roaming was not turned on.
The points you should check firstly
Is the roaming function turned ON? In the iOS case, check whether the cellular Data Option is turned on from "Settings" > "Cellular. If this is not turned on, it will not work, of course.
Has it taken seven weeks?
The next thing you should check is that seven weeks have passed after the activation.
Check Points
EU roaming will valid in 7 weeks after the activation.
Make sure 7 weeks have passed since activation.
If it does not still work, try this.
In my case, it was not available on my next trip to Italy. I had an iPhoneX at that time. In that case, try to set the carrier manually.
Select "Network Selection" from "Settings" > "Cellular" > "Network Selection" and turn the "Automatic" off. Then, the network operators are displayed. Please select the appropriate carrier as you like.
It worked well in my case. After that, there has been no problem even if the network setting is set to "Automatic" again.
Option setting (Disable SIM PIN)
This is an additional setting. You need to input PIN code when you restart your smartphone. This chapter shows how to disable the SIM PIN.
The following screenshots are taken iPad, but it's the same screen as iPhone.
Go to "Settings" > "Cellular" > "SIM PIN". And then you can see SIM PIN toggle. Disable this toggle.
You are required to input PIN code, so input "PIN1" to disable it.
Now you will not be required to input SIM PIN code even if you restart your smartphone.
That's all! Enjoy!.